What She Hides from the Sun
by Eva Vandetuin
(03/08/06)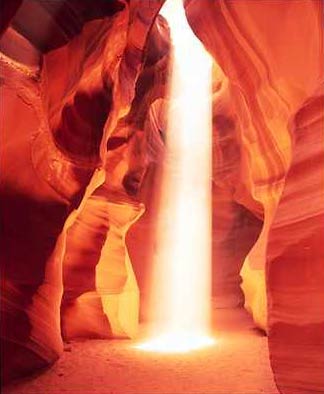 She loves the way he looks in the sunlight, one leg thrown carelessly over the arm of the chair, with a beaten-up sci-fi novel he's read half a dozen times before clutched in his hands. Her head is tilted towards her own book, but she's watching him, noticing how he moves when he is unselfconscious, his attention elsewhere. The light makes the curly hair on his legs glint gold, drawing her gaze down one muscular calf to an almost delicately tapered ankle, unexpected on such a big man. Against the freckles on his shoulders, she can catch the faint shine of a long-healed scar, a mark left from adolescence when his shoulders broadened too fast. We think of women when we think of stretch marks; in the right light her breasts and hips still shine with them. But men carry them too, reminders of different growing pains, tumultuous adolescence in a slightly different key. His hair is cut short enough now so that if she were behind him, she could see the edge of the splotchy red birthmark that hides under his mane of blond hair. She misses his old hair, the soft, wavy river down his back that any woman would have envied. But he's older now, and perhaps less vain, of an age where looking respectable is an asset.
She still thinks he's beautiful. If her eye fixes on his supposed imperfections, it's because those are the things that make him unique, not just another tall and reasonably fit young man moving into full adulthood. There are millions of attractive men in the world to admire, even millions who are broad and strong and fast like him. Maybe there are even millions who have the deep emotional well that he does: a well that, when she sees it, looking into the black of his eyes, she wants to throw herself down it and be lost. But when she thinks of taking him to bed, it's these details she focuses on. Sometimes she imagines herself a heroine in some old Greek myth, asked to pick her lover out of a crowd by touch alone. She knows the gods would never fool her. She would find him by the texture of his skin, the shape of his hands with their long fingers, his cock just wide enough when erect so that wrapped around the shaft, her thumb and middle finger barely touch.
They've made love twice this sleepy Saturday morning, playfully, with laughter and affection. The pleasant tingle of her orgasms lingered while they scrambled eggs and made coffee, ate together, made light conversation. And now they're sprawled out in the living room reading, and she finds herself still hungry in a way that has nothing to do with her stomach. Her body is heavy with the lethargic aftereffects of good sex, but there is an emptiness and a fire inside her that remains somehow unsated. Looking at him, she wants him again, and the wanting scares her. Her eyes linger on his hands, curled around the well-loved pages of the book. She feels a rush of blood to her cunt. To herself, she thinks, Body, you must be crazy.
She remembers this morning, floating up to consciousness to find herself flushed and sensitive and in the middle of foreplay. The warm bulk of him fits close to the curve of her back, his hands caressing her nipples and clit while his mouth moves on her neck. Still half-asleep, she finds herself moaning, pressing back against him with the sudden sharp desire to have him inside her. In the uninhibited muddle of her dreaming mind, though, emotions splatter like paint -- love and lust, yes, but also, perhaps still lingering from her dream, a terrible emptiness, the loneliness of being locked in a separate skin; and mixed in with that in a lurid color that waking consciousness has no name for, a shiver of quaking fear. She rolls over and clings to him, burying her face in his chest and inhaling deeply. He smells wonderful, a rich brown scent, spicy but with an undertone that reminds her of unsweetened chocolate. Hands move on her back, comforting, arousing. She raises her head and he smiles at her, teases her a little. They laugh together; they make love, and her ears fill with her sighs and his low moans of pleasure.
And now she sits with her book open in her lap, looking at the words but not reading, wondering why comfort and laughter and even love, warm and affectionate and genuine, aren't enough, so that even now she feels the emptiness in her chest all over again and shudders with it. Out of the corner of her eye, she watches him turn a page -- wrapped up in the story and momentarily oblivious.
Pain grows in the emptiness like a black flower that never needs the sun. She feels the ache blooming and breathes more deeply, but this is nothing new. It's an old pain, and despite the years of contemplating it, she still doesn't understand its source. All she knows is the lovemaking makes her forget for a while, allows her to turn away from the void toward something that feels like light. She worries that she reaches for love and sex like a drug, that she will need more and more until they lose their effectiveness, leaving her no relief at all. Not an hour ago his mouth was fixed on her clit and she was crying out in pleasure. Does she really want him again? She thinks about the way she sometimes stuffs down sweets even when her stomach is full, and feels afraid.
He likes to laugh. When he does his face is radiant and his eyes twinkle. Lying next to him in bed she can see the beginnings of crow's feet forming around his eyes, grooves worn by many, many smiles. She likes to laugh too, but she doesn't tell him how tiring it is for her sometimes, how after a while all that bubbly fun makes her exhausted, as if to keep things light and airy she has to never stop flapping her wings. Next to him her soul feels like lead. How can emptiness weigh so much?
And she knows too, that if he knew she was sitting there next to him needing and hurting he would want her to ask for his help. But he gives her so much already; being next to him is a comfort, for reasons she understands no better than she understands her pain. What would she ask him to do? He could make love to her again and she would forget for another hour, perhaps, or if she is strong and lucky, a few days. She can immerse herself in play and activities and work and turn away from herself, feed on his sunny energy. But she thinks of herself eating chocolate after chocolate until the box is empty and says nothing.
There are tears in her eyes now, she can't see the words she wasn't reading anyway. Beneath her robe, her nipples have grown taut, tingling with the contact of her robe when she shifts in her seat. There are other things she would like to ask, but the confused, violent images don't make sense even to her. She imagines herself in bed with him, moonlight making their pale skin glow against dark sheets. Her hand rests on his square hip, his caresses her face, tenderly pushes back her hair from her eyes. Her lips open, she hears her own voice speaking as if someone else said the words.
Smile, but don't laugh. I can't go down deep when you laugh. I want to descend into myself and be broken open, smashed like an egg thrown against a wall. I want to hear myself scream in your arms, really scream, pushed beyond my limits of pleasure and pain so that I forget myself and just am. I want to touch you and feel myself blur. I want us to go together to the top of the mountain and the bottom of the sea, let the blue lightning strike and burn us away. I want to tear the veil and blow open the gates of heaven, merge with you and afterwards still be complete in myself. I want to no longer fear my own power; I want to let Her out. And I want...and I want...
And she doesn't know what it means, how those words could be said on this warm Saturday morning with the breeze gently blowing the curtains and the smell of breakfast still lingering in the air: her, wet and flushed in a frayed blue robe and a band-aid on her knee, and him in faded plaid boxers, with his paperback novel with the warped pages and the spine cracked. This is a world for gentle, laughing sex and mature adult emotions, not the dangerous jungle of desires that she feels growing in her emptiness, the strange plants with their bloody petals, deep pink and raw like the throbbing lips of her cunt as she blinks back the tears and watches him reading. Those flowers would die in this sunlight, collapse into dust and blow away, leaving her even more empty than before.
She keeps her face turned away when she gets up from the couch and asks him if he wants more coffee. He shakes his head, immersed in the novel, but catches her hand and squeezes it as she walks by. Tears flood her eyes again. In the kitchen, she puts her cheery yellow mug down next to the coffeepot, pours herself a cup of coffee, adds cream. But before she returns to her lover to while away the morning in affectionate company and a good book, she puts her hands over her face and begins to shake.
©2006 by Eva Vandetuin
---
Eva Vandetuin is a religious studies graduate student. She sees sex and spirituality as being closely intertwined, and the relationship between the two inspires much of her fiction. You can find more of her work in the Clean Sheets archives and KinkyGurl.com, as well as in the upcoming anthology Lessons in Love: Erotic Interludes 3. For more information, see her Web site.